By Danielle McCartan (@CoachMcCartan and www.Facebook.com/CoachMcCartan)
BERGEN COUNTY, N.J.- Since 2004, Eli Manning, with one of the punniest names in New York sports media history, has many monikers: "Super Manning", "Eli-te", "Easy Eli", even "E-Lie". I have a new nickname for the longest tenured starting quarterback in Giants history: "Renaissance Manning".
While Il Rinascimento, the Italian renaissance that began in the 14th century, discovered (now) world-renowned artists Leonardo DaVinci, Michelangelo Buonarotti, Raffaello Sanzio, and Donato di Niccolò di Betto Bardi, the 2018 Giants, led by Manning, are set to re-introduce some of their own onto the national stage. Their names? Saquon Barkley, Evan Engram, Sterling Shepard, and, of course, Odell Beckham, Jr.
Where Manning's Supporting Cast was in 2017
In 2017, Barkley was busy etching his name at the top of Penn State's all-time rushing touchdown list.
Engram was a rookie tight-end hybrid, drafted by the Giants in the first round, learning to slow the game down.
Sterling Shepard, who was having a promising season, was shelved at the end of last season with a neck injury.
Perhaps the largest blow to the Giants' offense in 2017, Beckham was sidelined with an ankle injury that required surgery after a week 5 loss to the Los Angeles Chargers.
Renaissance Manning: Reason #1 – A Dynamic Supporting Cast
Manning is, in 2018, flanked by four of the most dynamic playmakers in football (when healthy), so long as brand-new offensive coordinator Mike Shula can scheme for them and create defensive mismatches.  If I were Shula, my game-plan would be to: take what the defense gives you, then have Beckham blow by the coverage on a go-route.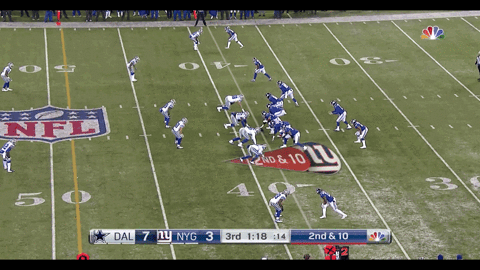 In order to achieve that, the Giants' offense must run a series of short passes/slant routes during which Manning must release the ball quickly and allow his receivers to make plays in open space. This GIF demonstrates my point. It shows a 62-yard touchdown reception for Beckham after he out-dashed every player on the field.  That, coupled with play-action and a dynamic running game, will be lethal. Giants Super Bowl winning wide receiver and former teammate of Manning's, Mario Manningham knows how explosive this offense can be and what the wide receivers need to do in order to win games: "Put up points, get open, [and] execute. They're hard workers [and] they're going to work hard."
To have Barkley, Engram, Shepard, or Beckham, with speed to burn, lined up in isolation with a linebacker will produce huge dividends for Manning and Co.  Furthermore, have you seen Barkley's quads?! He'll be able to easily push any pile at the goal line. Here he is, almost exactly a year ago, squatting 5 reps of 525 lbs.
As if Saquon's clean wasn't impressive, here he is squatting 525 for 5 reps this morning pic.twitter.com/fa3nYA6joi

— Chance Sorrell #58 (@Chanman158811) June 30, 2017
A key matchup to watch, in a pivotal series, this season will be: the Giants' playmakers against the very average linebacking corps of the defending Super Bowl champion Philadelphia Eagles.  As a defensive coordinator, how do you cover all of Manning's playmakers? The correct answer is that you cannot.  You will just have to work to prevent the big play.
Renaissance Manning: Reason #2 – Play-Action
Did you know that when the Giants won Super Bowl XLVI in 2011, their regular season rushing offense was ranked dead last in the National Football League in rushing yards per game? When the Giants made the playoffs in 2016, their regular season rushing offense was ranked 29th in the NFL in rushing yards per game.
After examining the data closely, I do not totally buy into the "Manning needs a running game" argument.  What he needs is a dynamic back like Barkley, who can flash as a halfback-option and is dangerous in the open-field. Barkley's mere presence on the turf will force the opposing defense to guard against two dimensions rather than just one (pass OR run). Giants Super Bowl winning wide receiver and former teammate of Manning, Victor Cruz is also excited about Barkley's impact. "Not only is [Barkley] a tremendous athlete and a tremendous running back with tremendous talent, he's a good kid and he's a good person…. I think he's [going to] make an immediate impact on that football team."
Interesting: According to ProFootballFocus, over the past three season, Eli Manning's efficiency improved slightly over 4 points to 95.2 when utilizing play action.  This is a key component with the addition of Barkley via the 2018 NFL Draft.  The differential in number of attempts is remarkable: 1399 (without play-action) to 288 (with play-action). If they Giants want to utilize Manning in the most effective way possible, they should look to include a higher frequency of play-action plays in their game-day repertoire.
Renaissance Manning: Reason #3 – Hold the Swiss!
Anyone that has ever read my articles or listened to my radio shows knows that I have been quite critical, deservedly so, on the weekly performance of the Giants' offensive line for years. My nickname for them? Swiss Cheese. This off-season, after years, the Giants finally addressed this, their most gaping hole, no pun intended.
It is no secret that Manning is one of the oldest (37 years) and least mobile quarterbacks in the league. Brand-new general manager Dave Gettleman went to the deli counter this off-season and brought a more robust cheese, perhaps a French Epoisses, back to the Meadowlands. It's considered one of the stinkiest cheeses (but I bet they haven't compared it to the smell of low-tide in the Meadowlands), but it's known for its creamy texture.  Manning is certainly hoping the new (and remaining) personnel on his front-line can blend and gel together like Epoisses. Eighty percent of Manning's offensive line will be new in 2018 (in regards to personnel and position changes).
A quick look at the revamped Giants offensive line upgrades this off-season (from left to right):
Nate Solder (LT): 6'8″, 320 lbs.  By way of the New England Patriots, Solder has a pedigree of winning and has blocked for the best quarterback to play the game of football, Tom Brady, for the past five seasons. The best news for him and Giants Nation? He is an immediate upgrade over Ereck Flowers, who was abysmal at left tackle for the past three seasons.  Manning can rest assured that his blind side will automatically be more protected in 2018 that it has been in recent memory.
Will Hernandez (LG): 6'3″, 304 lbs. Rookie guard by way of the second round (34th overall pick) in the 2018 NFL Draft. Hernandez was a high priority on my draft board for the New York Giants and, with a little bit of luck, Gettleman was able to grab him in round two.
#GmMcCartan 🧢: the #giants BETTER be selecting Will Hernandez rigt now with the 2nd pick of rnd 2. #nyg

— Danielle McCartan (@CoachMcCartan) April 27, 2018
Hernandez is an absolute stud ready to make an immediate impact on this team. His career at the University of Texas at El Paso earned him the highest grade for a left guard since ProFootballFocus began rating collegiate players.
Brett Jones (C): 6'2″, 309 lbs. Jones is an incumbent after starting in place of an injured Weston Richburg. Jones finished with the fifth best pass blocking ability among all NFL centers last season. Overall, though, he is rated below-average: at 63.9 (18th). This tells me that his run blocking ability is an aspect of his game that deserves to be addressed, especially with Barkley in the backfield.
Patrick Omameh (RG): 6'4″, 304 lbs. A versatile guard (Omameh has started an equal number of games at left and at right guard) by way of the Jacksonville Jaguars.  While his scouting report from six years ago suggests he should develop quicker feet and may get beat in open space, it also says that he "enforces his will as drive-blocker in the run game, and uses that same strong punch to knock pass rushers off their route." Additionally, he can "sustain the block when redirecting, chasing his man around the pocket until the ball is gone." Omameh's upside sounds exactly like medicine that the Giants' sickly offensive line needs.
Ereck Flowers (RT): 6'6″, 315 lbs. Flowers is the biggest question mark on the Giants' offensive line entering training camp. First, after the signing of Solder, Flowers has been asked to move to right tackle instead of left. For the past three years, his entire career, he has been the Giants' left tackle and, reportedly, he was not happy about the switch. Next, he did not show up to any of the Giants' off-season training programs but he did show up for OTAs earlier this month. This comes after he and another lineman declared themselves unable to play in the Giants' week 17 matchup against the division-rival Washington Redskins last season. New head coach Pat Shurmur on Flowers' attitude and production this spring:  "He's been great…He's been communicating well, he looks like he's having fun playing out there, he's worked in with the offensive line and he's done everything we've asked and I anticipate that will continue."
Manning's Former Wide Recievers Have Opinions on His Level of Play
Both Cruz and Manningham (who caught passes from Manning in Super Bowl XLVI) weighed in to me about his 2018 efficiency.  Is Eli still "elite"? Cruz explained: "Absolutely. I think he's still got a lot left in the tank and I think you're gonna see a different Eli this year when he's got some legitimate threats out there: some guys that can stay healthy for him and catch some passes…. I think he'll be great." When I responded that the Giants also bolstered their offensive line this off-season, Cruz responded: "[Yes,] and some protection up front. They went in the draft and they did some good things." Manningham replied: "Yes…I think he is… [I'm not] writing Eli off, I know what Eli can do." Giants fans do, too.
To download these interviews and over 170 others (and my radio shows) or to listen to them on-demand, click the photo below!
I discussed this concept while hosting on WFAN on Thursday, July 5th, 2018. Click on the image below and skip to 15:38.