By Danielle McCartan (@CoachMcCartan and www.Facebook.com/CoachMcCartan)
For which team will 29-year-old (30 in November) wide receiver Dez Bryant play in 2018? While some players are having prophetic dreams about the answer to the question, I will consult my crystal ball of logic.
Why I had the craziest dream last night. OG @DezBryant was back on the squad before the season started! 💯✊🏾🤫😬#ClearEyeView
— Jaylon Smith (@thejaylonsmith) June 24, 2018
Imagine, for a minute, that you're Bryant. You're a first round draft pick (24th overall) by the Dallas Cowboys, "America's team", and you've been a fixture, wearing #88 there since 2010.  Throughout your career, you've racked up 3 Pro Bowl nods, a first-team All-Pro award, and lead the NFL in receiving touchdowns (2014).  You average 14 yards per reception, have 7,459 total receiving yards, and have celebrated in the end zone 73 times. Some people love you, many hate you.  Your demand for the ball sometimes puts your team in a bad situation- thus giving you a reputation of: "bad locker room guy" and "diva receiver". Through 16 games last season, you were tied for third in the NFL for most wide receiver drops. In fact, your number of drops equalled your number of touchdowns: 6. So what? You had a down year. Well… a down couple of years.  Since signing a five-year, $70 million deal in 2015, you haven't produced a 1,000 yard season or reached double digits in touchdown catches.
Then, in April, the Cowboys cut you and Stephen Jones, Cowboys executive vice president, says publicly: "The other thing that we all see, and it is certainly visible to anyone who watches our games, watches our sideline, is Dez is certainly a fiery guy who plays with a lot of emotion both on and off the field. Sometimes that can be a distraction. It can be a distraction for Dez, it can be a distraction for other teammates…."
At first, it's hurtful, especially if you do not consider it to be truthful.
Nope not 1 bit and very appreciative for the offer. .. what's crazy is how reports like this will try to tarnish someone character.. the slight jab saying it's not easy to get along with.
I thought the media would give up by now with betraying me as something that I'm not https://t.co/tF6mKXbXBN
— Dez Bryant (@DezBryant) May 15, 2018
Now, you've got something to prove, but not with the Baltimore Ravens, the only team to offer you a deal. The multi-year deal was, reportedly, for around $7 million per year.
So it's clear that you're looking to lockdown a long-term, big money deal in 2019's free agency market.  What do you need in 2018? A playoff-ready team with a stud quarterback on a (very) short-term deal. It seems as though you're also trying to shed and disprove your bad-boy image. Who could offer you all of that?
Oakland Raiders
At first glance, the Oakland Raiders look like the perfect fit for Bryant. His style of play, his swagger, and his attitude are characteristics of a "quintessential Raider".  Under head coach Jack Del Rio's three-year tenure, they've made the playoffs once. This team is on the cusp of the playoffs every year, especially when quarterback Derek Carr is under center. The possibility of a long-term deal with the Raiders is also lucrative because of their relocation to Las Vegas beginning in 2020. A warm climate is favorable for an aging player and Nevada has no income tax.  That means Bryant will take home more money from his anticipated big-money deal than most other places.
In March, the Raiders released WR Michael Crabtree, who is particularly productive in the red zone.  Bryant would be an upgrade in that area as he is more productive inside the 20 yard line than Crabtree.
The Raiders signed Jordy Nelson to a two-year, $15 million deal two days after the Green Bay Packers released him in March.  Unfortunately, with Carr's historic contract (5-year, $125 million) the Raiders have the sixth-least amount of cap space in the NFL.  There isn't much space for Bryant, but, as they say: where there's a will, there's a way.
Green Bay Packers
In March, the Packers released a ten-year veteran of their team: Jordy Nelson. The terms of the deal were never publicly disclosed in a move that Jordy Nelson called "disrespectful" and "insulting".  On ESPN Wisconsin, he also said, of his meeting with new general manager Brian Gutekunst: "It was disappointing.  We knew about a week in advance that it was going to be a discussion on me taking a pay cut or a restructure of some sort to help out with the cap number, but at the end of the day, it wasn't what we thought was right and we made the decision to move on. It was hard."
The breakup between Nelson and the Packers leaves them with a hole to fill: a veteran wide-receiver.  While the intense cold might not be what Bryant is looking for (the temperature inside the dome at AT&T Stadium is between 68 and 76 degrees), the situation and the money might be just right.
Aaron Rodgers' name enters the "greatest quarterback of all time" conversation, so who, in their right mind, would turn down the opportunity to play alongside him? The Packers have made the playoffs every year between 2009 and 2016, even winning Super Bowl XLV in 2011.  There is no-doubt they will make the playoffs again this year.
The Packers could also be in the market for a number 2 (or 3) wide receiver after reports that Randall Cobb has been spotted wearing a walking boot on his right foot after mysterious ankle injury. He declined to say whether or not the injury required surgery.  While details have not emerged over the past three days, depending on the severity, this injury may hold him out of training camp, the preseason, and even part of the regular season.  NFL.com is reporting that the injury will not keep Cobb out of action during week one, but how effective could he be having missed out on preseason action?
There certainly seems to be a need for Bryant's services in Green Bay, however, will the straight-laced Packers put up with Bryant's antics? How will Rodgers, a total team-first player, take to being demanded by one of his receivers to throw him the ball?  The Packers are also in the bottom third of NFL teams in terms of cap space.  They don't have much wiggle room. Though, Nelson was slated to make $10.25 million in salary and bonuses in 2018, as long as Bryant asks for less, it seemingly could work out.
Jacksonville Jaguars
The Jaguars parted ways with two of their highest-profile wide receivers this offseason: Allen Robinson (signed as a free agent with the Chicago Bears) and Allen Hurns (signed as a free agent with the Dallas Cowboys).
Where does that leave them? Their top two receivers heading into this season are Marqise Lee and Donte Moncrief.  Lee will undoubtedly enter the season as the number one wide receiver for quarterback Blake Bortles after he had a relatively productive 2017 season after Robinson's ACL tear in week 1. In 14 games, he posted 3 touchdowns and a 58% catch percentage for an average of 12.5 yards per reception. In the AFC divisional round, Lee caught 3 passes in a Jaguars win over the Steelers, so he has playoff experience- a plus.
Moncrief signed a one-year deal with the Jaguars this past March worth $9.6 million guaranteed and another $2 million in incentives (Adam Schefter).  He is slated to be their number two receiver.  Lee played in 12 games with the Indianapolis Colts last season, posted 2 touchdowns and a 52% catch percentage for an average of 15 yards per reception. In 2014, Moncrief played in three Colts playoffs games (5 rec, 1 TD).  He also has playoff experience- a plus.
Bryant posted 6 touchdowns and a 52% catch percentage for an average of 12.1 yards per reception. He's been to the playoffs on two separate occasions (catching two touchdown passes) throughout his seven seasons with the Cowboys.
All three players are in the bottom half of receivers in terms of catch percentage (minimum 43 targets). Hurns, for the Jaguars, posted an astounding 93% catch percentage when targeted in the red zone last season. Jacksonville posted the league's highest red zone production in 2017, a 9% improvement in efficiency from the prior season. Bryant, reliable in the red zone, could plug that hole. Notable: he pulled in six touchdown catches last year- one more than both Lee and Moncrief combined. The Jaguars, with the 12th best cap room in the NFL, gave Moncrief a one-year "prove-it deal", why can't they give Bryant one, too?
San Francisco 49ers
The talent and the pedigree of quarterback Jimmy Garoppolo has certainly garnered the attention of and attracted the league's top talent to San Francisco. Rightfully so. Before Garoppolo was announced as the starting quarterback, the 49ers were an abysmal 1-10.  With him under center they were 5-0. "In fact, there aren't many statistical categories in which the 49ers didn't enjoy profound improvement once Garoppolo took over. Even the defense, long the victim of an ineffective offense forcing it to stay on the field for too many snaps, turned into a top-10 unit once Garoppolo and the offense began regularly picking up first downs." Perhaps sainthood is in the cards for Garoppolo.
The 49ers have eleven wide receivers listed on their roster. Marquise Goodwin, who may miss all or parts of training camp due to a back injury, signed a three-year, $19.25 million contract extension in March. The 49ers' number two receiver, Pierre Garcon, seems to be locked up definitely for the next two seasons, possibly four.
Garçon's deal is a five-year contract but two years on the end are pretty much dummy years. Three-year deal for all intents and purposes. https://t.co/EY2y9svgw7
— Mike Garafolo (@MikeGarafolo) March 10, 2017
Is there room for Bryant? He certainly thinks so.  Dez Bryant has been uncharacteristically quiet about the entire ordeal, so his activity on social media bears much more weight than normal.  Replying to a fan's question on one of his Instagram posts, Bryant said he would like to go to the 49ers.  That comment has since been deleted, but you can take a view it here:
Financially, the 49ers are in a prime position (in terms of cap space) to offer a minimum, one-year deal to Bryant.  They have the third-best cap situation in the NFL. It's not a matter of "can they?", but rather a matter of "do they want to?" sign Bryant.
With all aspects considered, what is my final verdict? Bryant will become the newest wide receiver for Aaron Rodgers and the Green Bay Packers.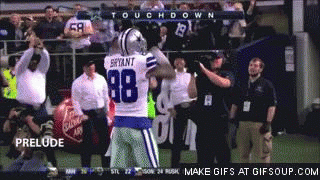 I discussed this concept while hosting on WFAN on Thursday, July 5, 2018. Click the image below and skip to 1:21:22 to hear my analysis.