By Danielle McCartan (@CoachMcCartan and www.Facebook.com/CoachMcCartan)
BERGEN COUNTY, N.J.- The Mets need to decide which kind of organization they are and which kind of organization they strive to be. Once they have figured out that identity, they should act accordingly … and the fate of one of the Mets' most beloved and most productive starting pitchers, Noah Syndergaard, hangs in the balance.
hear at least half-dozen teams are believed to be real players for Noah Syndergaard. mets are seriously considering deals for him if they could fill multiple holes with real impact. will be one of the big winter meetings storylines.

— Jon Heyman (@JonHeyman) November 21, 2018
At a Thanksgiving charity event organized by the team, Mets owner Jeff Wilpon, from a stoop, said: "It all depends on what Brodie [Van Wagenen] thinks he can get back [in a trade]. If he thinks the return is outsized from what the value of Noah is, then I guess he'll suggest it and we'll move on and do that. But it takes two [teams] to make a trade and it would [have to be] pretty lopsided.''
To me, "pretty lopsided" means that, for Syndergaard, the Mets would need to receive an offer they can't refuse. You know, a real "leave the gun, take the cannoli" type of deal.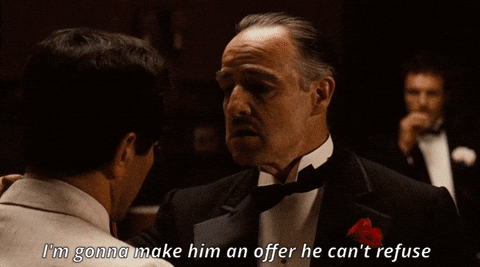 For the Mets to move Syndergaard, the deal would have to:
Be rich with players that are not developmental projects, at the minor-league (fundamental modifications needed, etc.) or major-league level (players who switch positions, etc.)
Include most, if not all, players that could play at the major league level right now.
Players that address the Mets most pressing needs: back-end of the bullpen, catcher, third base (in that order).
If the offer sheet that Brodie Van Wagenen receives includes those three stipulations, sending Syndergaard packing would be difficult, yet logical. Even without Syndergaard, the Mets have a formidable starting rotation that would begin with 2018 Cy Young winner Jacob deGrom, Zach Wheeler, and Steven Matz.
Just imagine if deGrom had even a little run support in 2018. How many more wins would he have? The National League Cy Young runner up, Washington Nationals pitcher Max Scherzer, had 18 wins.  Hypothetically: 18-10 = 8. The 2018 Mets were a 77-win team. 77+8= 86 wins.
Next, Mets pitchers blew 18 saves last season.  The league-least was 14. 18-14 = 4 more wins. 86+4 = 90.
The National League East-winning Atlanta Braves accumulated 90 wins in 2018.  So, in 2019, if the Mets could a.) score a few more runs and b.) prevent a few more runs in the latter stages of the game, they could make the playoffs.
It needs to be stated that Syndergaard won 13 games in 2018.  If the Mets trade him, and could re-up their starting rotation with a pitcher that could win even just 10 games, in this scenario, they would be alright. Because, what I'm trying to say is that with a few more runs scored here and there, a few less blown saves, and with the top-notch, MLB-ready haul (controllable) Syndergaard should yield, the Mets would not be worse off than they currently are.  For this reason, the Mets should act like the big-market team that they are and pull out all of the stops to bring Manny Machado to Queens.
Wilpon said Van Wagenen is sorting through trade possibilities and that "free-agent stuff is secondary." Why not make any moves through free agency? Machado would be an absolute, out-of-the-park grand slam for the Mets, major pun intended. The bottom line is: how much trust do Mets fans have in a big-market organization that runs day-to-day operations like a small-market one and that has a general manager that has never made a trade (on behalf of an organization)?
Should the #Mets (#lgm) trade Noah Syndergaard?

— Danielle McCartan (@CoachMcCartan) November 20, 2018
Mets fans are clearly divided on the issue, because, for some, a "yes" or "no" answer was not sufficient. Some of my followers took to "writing-in" their thoughts on my poll.
Need a third choice called "Depends" as in, "depends on the package they get in return."

— Ken Gelman (@kengfunk) November 20, 2018
That's like Marvel trading Thor.

— jack (@jack44031) November 20, 2018
Absolutely. First call I make is to the Brewers for a package with Keston Hiura as the headline.

— Mets Nostradamus (@OFan89) November 20, 2018
Furthermore, some hardened, long-time Mets fans grappled with two worlds: the difference between what they will do and what they should do:
I voted yes not because I want him to be traded but because I'm realistic. No way the cheap ass owners pay him, DeGrom, Matz and Wheeler. Someone will have to go and if you can get back young position players for Thor, you gotta pull the trigger

— George Magalhaes (@gmags1199) November 20, 2018
Mets brand-new general manager Van Wagenen has met his first challenge, a polarizing one: trade beloved Noah Syndergaard or keep him on a roster devoid of offensive production?  For the exact, right package, the hammer needs to come down on 'Thor'. Until a decision is made, this is great fodder for sports-talk radio and television.
To download over 200 of my athlete interviews and full-radio shows, click here or on the image below.