By Danielle McCartan (@CoachMcCartan and www.facebook.com/CoachMcCartan)
BERGEN COUNTY, N.J.- Ladies and gentlemen, let's get ready to rumble! New York Giants fans, it is time to settle this once and for all- which player had the iconic catch in team history: Odell Beckham, Jr. or David Tyree?
2014: In the first corner, wearing a blue jersey and grey pants: Odell Beckham, Jr.! Beckham's catch occurred in a divisional rivalry matchup at MetLife Stadium against the Dallas Cowboys.  The 43-yard, one-handed, incredible grab was Beckham's second touchdown catch of the game. Beckham was able to make the catch regardless of a defensive pass interference call against Cowboys' cornerback Brandon Carr. Unfortunately, the Giants were defeated on a (literal) last minute touchdown catch by Dez Bryant. The final score was 31-28 and it was their sixth consecutive loss.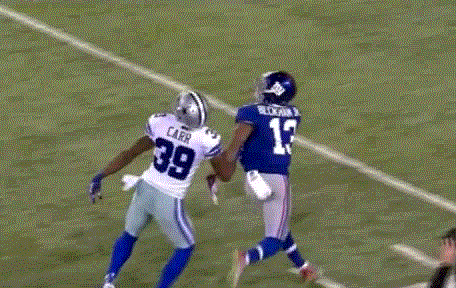 In the second corner, wearing a white jersey and grey pants: David Tyree!  The setting? University of Phoenix Stadium, Glendale, Arizona on the brightest stage in sports: the Super Bowl.  Tyree's two-handed helmet catch in tight coverage came after an improbable escape by quarterback Eli Manning.  Tyree, not a primary receiver throughout the season, amazingly maintained possession of the football on his way to the ground, despite Patriots' safety Rodney Harrison's best efforts to knock it loose.  This 32-yard completion, on third-and-five during the final drive and the final minute of Super Bowl XLII, set up the game-winning touchdown catch by Plaxico Burress.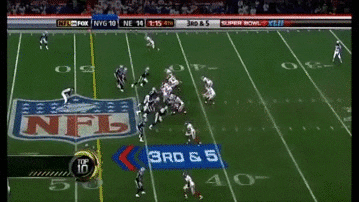 …..And the winner is?!
Well, it depends who you ask.
Why not go right to the source? I have not had the opportunity yet to ask Beckham his opinion.  However, I was able to ask Tyree his opinion at his annual Children of the City bowling fundraiser at Lucky Strike on Manhattan's West Side.  Reflecting on the play, Tyree recalls: "What makes the play so amazing is there's so many aspects to it: Eli doing what he did, looking like Michael Vick out there… and I probably have the worst vertical jump for a wide receiver, so it was just seizing-the-moment and everybody playing above those x's and o's."
When I asked him which catch (his or Beckham's) was more iconic, Tyree took an extremely diplomatic position. He said: "I would say that social media is directing the whole word right now. So, I'm sure Odell's probably carries a lot more weight. I'll let the people speak to that. That's the good thing about being in the conversation. It's just nice to be in the conversation."
Not long after I talked with Tyree, I was able to delve deeper into the conversation with Giants' wide receiver Amani Toomer, who was on the field in Super Bowl XLII when Tyree made his impossible grab. Calling Tyree "modest", Toomer established his opinion quickly. "David Tyree. It's not even a question. The fact that it was the fourth quarter of the Super Bowl and it was the catch that propelled us to win the Super Bowl. The game that Odell Beckham made that catch? [The Giants] lost. …That's big with me. If you win? That's a little bit 'more'."
Greatest play in super bowl HISTORY https://t.co/gTBIaoJY7r

— Osi Umenyiora (@OsiUmenyiora) January 3, 2018
Does this count as a vote for Tyree, Osi?
What do YOU think?
Leave your comments below, tweet me, or comment on my facebook page (links above)!
To download this interview and over 100 others,
visit on my iTunes official podcast.